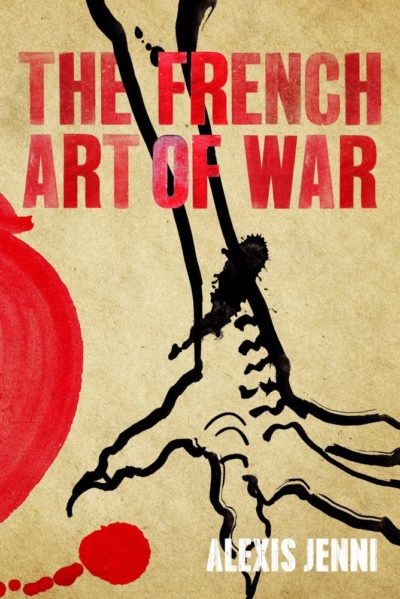 "I watched the ballet of bombs over Baghdad, those fantastical fireworks with their greenish trails, and in doing so learned that modern warfare is conducted in the glow of computer screens; I saw the faint, grey outlines of buildings shudder into focus only to explode, destroyed from within with everyone inside…"
1991. A young man holed up in his apartment is watching the 'shock and awe' of Desert Storm, forging sick notes to avoid work, mesmerised by the rolling news, spellbound yet increasingly numb, he gradually sabotages his whole life: fired from his job, his relationship in ruins and, he reaches rock bottom and returns to his home town, Lyon. There, at a local market, he meets Victorien Salagnon, an elderly artist, a veteran of so many wars they have merged into one, a man as accomplished with a brush a he is with a semiautomatic. Together, they strike a bargain: Salagnon will teach the young man the art of the brush, in return, he wants the story of his life to be written. So Salagnon begins his tale – from a teenage résistant in Nazi occupied France, through hunting rebels in Indochina and engaging in torture in Algeria, he puts words to the deaths that were as numberless as they were senseless; he reveals the killing fields on which the modern world is built.
Spanning half the world and half a century, The French Art of War is a humane, horrifying and blistering account of colonialism and conflict, the uneasy intervals of peace and the moments of unspeakable savagery that have shaped a modern continent and its many discontents.
Reviews
"Jenni is a superb storyteller and mostly manages to make it work. I don't know if this is what war really feels like — nor, I suppose, does Jenni — but his imagination, well served by an excellent translation, creates a stunning picture of the peculiar emotions and horrors of this 'French art of war'."
Robert Tombs, The Times
"In visceral and cinematic prose, Jenni …dramatises the dark "art" of assymetrical warfare with shock-and-awe virtuosity. […] Heroically agile, translator Frank Wynne leaps between the lexicons of action-packed derring-do and morose cultural invective without a false step. […] Jenni eviscerates post-colonial fantasy and nostalgia with the surgical precision of a stealthy rainforest ambush"
Boyd Tonkin, Financial Times
"The novel is naturalistic in its approach, muscular in style, exhilarating as a song, inspiring as a meditation that never falters, harrowing as a forensic report… a dazzling modern version of Aubigné's 'Tragiques'"
Le Monde
'"The French art of War' is a masterpiece … It is the hidden face of France, it is scene left on the cutting room floor  by Coppola in Apocalypse Now. Literature exalts the soul; when it succeeds as this novel does, literature does the work of God."
Le Figaro