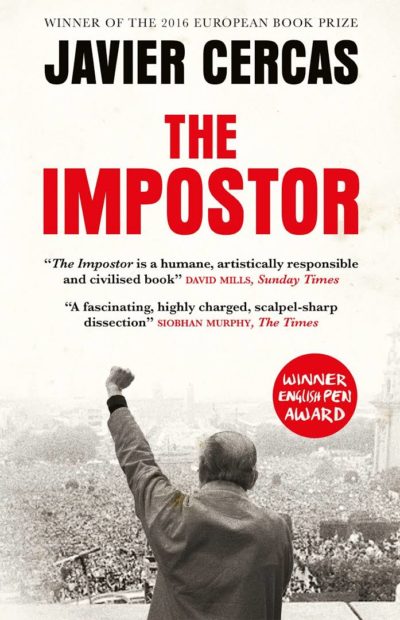 Longlisted for the Man Booker International Prize 2018
Who is Enric Marco? An august and much-revered old man from Barcelona, a veteran of the Spanish civil war, a fervent fighter against fascism, an impassioned campaigner for justice and freedom, a survivor of Flossenbürg, the Nazi concentration camp whose tireless work promoting historical memory in schools, at conferences, in countless interviews, in a speech to parliament that moved members of the Spanish congress to tears, earned him many honours and saw him rise to become president of Amical de Mauthausen, Spain's most important association of survivors of the Nazi camps.
Who is Enric Marco?  A old man with delusions of grandeur, a charlatan who fabricated his heroic war record, a impostor who falsely claimed to be a survivor of the Nazi camps, a fabulist who refashioned himself as a defender of liberty, a charming, beguiling compulsive liar.
Unmasked in 2005, on the eve of the seventieth anniversary of the liberation of Mauthausen, Marco's self-confected legend began to crumble, yet still he floundered, desperate to save his image of himself. In a case that shocked the world, Enric Marco was labelled a great imposter to which he responded: "I am an impostor, but not a fraud."
Javier Cercas unravels the enigma of the man, the truths and the lies, and, in an investigation that unpicks the history of 20th century Spain, delves with passion and unflinching honesty into that deepest part of human nature – our infinite capacity for self-deception, our need for conformity, our lies, our insatiable thirst for affection and our conflicting needs for fiction and for truth.
The Impostor is an extraordinary novel that not only tells Marco's self-deluding story, but also challenges the reader to consider how truthful any of us is in the way we present ourselves. Are we not all, asks Cercas, the novelists of our own lives?
Praise for "The Impostor"
The language is precise, distinctive and delicious. . . Is there a more gifted or versatile translator working today than Frank Wynne?. . . The voice of this book, the voice of Cercas, with its beautiful grain and restlessness, its swerves from pity to fury, from calm to hysteria, owe much to Wynne's almost musical modulations."— Parul Sehgal, The New York Times
The Impostor is a humane, artistically responsible and civilised book, one that you finish feeling heartened that such a serious-minded writer as Cercas is at work.
David Mills Sunday Times
No Spanish writer has probed the unhealed wounds of the country's history with more subtlety and rigour than Mr Cercas
Economist
A fascinating, highly charged, scalpel-sharp dissection.
Siobhan Murphy The Times
Besides being a piece of nifty journalistic detective work, Cercas' book is an insightful psychological study . . . Both convincing and compelling
Daniel Hahn Spectator
Truth and fiction blend in an outstanding novel about a Holocaust impostor
Sunday Times "Must Reads"
[Cercas] goes about telling Marco's story with great skill, some impressive detective work and an irony that's sometimes amused and sometimes appalled
Christopher Tayler London Review of Books
A very rich text, a true textile of interlinked threads of thought, of history and of stories . . . The Impostor is fiction dealing with the value of history; and it is a history about the vital value of fiction as a guarantor of reality
Mika Provata-Carlone Bookanista
Masterly . . . Cercas probes this mysterious and extraordinary life with uncommon patience, uncommon skill and uncommon sympathy.
Allan Massie Scotsman